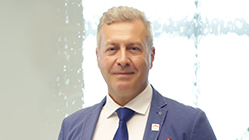 Who is Özhan Atalay?
Özhan Atalay, born in Istanbul, was graduated from the Business Administration of Istanbul University. Atalay serves as CFO at Teknoloji Holding, Assistant General Manager at Schindler Asansör AŞ, General Manager at Premdor Masonite Kapı Sanayi AŞ, Assistant General Manager at Muratlı Karton A.Ş. and General Manager at Vega Services Inc.
He is an expert on companies which fail to make profit although there is no problem with the business model as well as those which want to increase profits. Atalay serves as Independent Professional Board Member as per the new TCC and CMB. He is married and a father of two.
For speech topics, publications and videos: https://www.indekskonusmaciajansi.com/konusmaci/870/ozhan-atalay