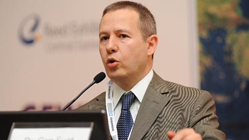 Who is Dr. Can Fuat Gürlesel?
As the founder and director of Economy and Strategy Consultancy Services, he has, since 1991, been providing economic and sectoral consultancy and research services to financial sector institutions, business organisations, local governments, and public and foreign institutions.
He is the founding chairman of the Strategic Research Institute where he has worked since 2003. The institute carries out strategic research. He has written many books, articles, reports and similar works.
For speech topics, publications and videos: https://www.indekskonusmaciajansi.com/konusmaci/17/can-fuat-gurlesel